A few days ago, the FDA approved a genetically modified salmon. The fish won't be labelled as such and it won't reach the market until two years from now.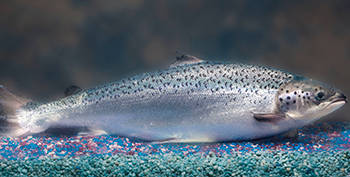 For the first time in the US, the Food and Drug Administration approved a genetically engineered fish suitable for human consumption. In other words, eating a fish with a modified organism is fine. The company which submitted this fish to the FDA is AquaBounty Technologies, based in Maynard, Massachussetts. Their fish is actually an Atlantic salmon, more precisely the AquAdvantage Genetically Engineered Salmon, which reaches the market required size twice as fast as regular salmon 18 to 20 months instead of 28 to 36).
"The FDA has thoroughly analyzed and evaluated the data and information submitted by AquaBounty Technologies regarding AquAdvantage Salmon and determined that they have met the regulatory requirements for approval, including that food from the fish is safe to eat", announced the Director of the FDA's Center for Veterinary Medicine Bernadette Dunham. The requirements including the "fish was safe to eat, that the inserted genetic elements did not harm the fish itself, and that the company had adequately proved that the salmon grew faster". AquAdvantage salmon is also as nutritious as conventional salmon.
However, it will take some time before this salmon lands in our plates. Even this super-fish needs time to grow and they're only raised in two locations (one in Panama and one in Canada) with a limited production capacity. Moreover, Aldi, Trader Joe's and Whole Foods Market among others have already promised that they won't be selling it. Antother important precision: the FDA doesn't requires AquaBounty to label the fish as GE species. The agency just opened comments for the Voluntary labeling of GE Atlantic salmon as well as for the Voluntary labeling of food derived from GE plants.
Photo: AquaBounty