Starting this week, there's a new feature in McDonald's all-day breakfast menu: the McGriddle sandwich. But it's available in Tulsa only.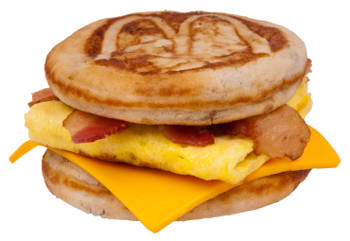 McDonald's started to test an all-day breakfast menu last year, first in San Diego, in April, then in Greenville and Greenwood, Miss. in June, then again in Nashville in July. Eventually, the idea proved so successful that the option has been rolled out nationwide last October. But clients were missing one of their breakfast menu yummy favorite: the McGriddle.
The McGriddle, as described by McDonald's, is a "Soft, warm griddle cakes with the sweet taste of maple baked right in, thick cut Applewood smoked bacon, a fluffy folded egg and melty American cheese". The McGriddle is available with sausage instead of bacon or with bacon only. The biscuit sandwiches have their fans too in some areas.
As the leader of burgers makes it a point of honor to listen to its customers, McDonald's decided to put the idea to the test, starting February 1. The (happy) selected city is Tulsa, Oklahoma, where 72 restaurants now offer the all-day long breakfast menu including McGriddles and biscuit sandwiches, for two to three months. McDonald's will then decide if it's worth going on with the idea or not.
Photo: Evan-Amos / Wikimedia