After several exclusive collections designed by Pharrel Williams for the Original Supershell, Adidas is about to launch two new ranges created by the multiskilled artist.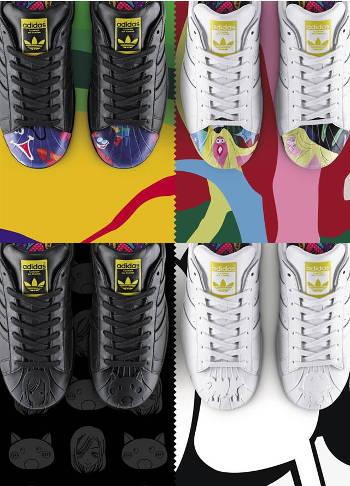 Pharrell Williams started to work on designs for Adidas in 2014. Several Original Supershell collections have since been launched. The limited Superstar 80's for example, was inspired by Bolivian crafts and available only in New York City, for a single day (February 14th). Last March, the Supercolor Collection offered 50 different plain colors, from the lightest blue to the brightest red. Williams last contribution results in two ranges, The Sculpted Collection and the Artwork Collection.
Along with contemporary artists Todd James and M., architect Zaha Hadid, and photographer Cass Bird, Pharrell Williams created various original designs, each shoe allowing infinite mix and match possibilities, so everyone can express their individuality and creativity. Both collections will be available from tomorrow (August 7th), offering different artworks and sculptures around the globe. The price range should be between $104 to $132 depending on the model.
*Photos: Adidas