Looking for an original Halloween costume? Options are endless. Hopefully, CNBC may have found something special for you.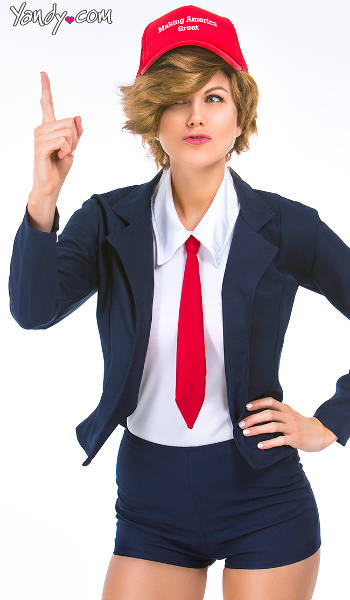 When it comes to the choice of the right costume to wear on Halloween night, it can become tricky: there are so many options out there, especially online, that it makes the search complicated, if not boring. With only a few weeks to go until next Halloween, CNBC may have found a solution, a least for women. How about dressing up as Donna T. Rumpshaker this year?
Donna wears a crispy white collared shirt, a classy royal blue faux blazer with matching booty shorts, and a red tie to add a dash of bright color. This limited-edition costume can be purchased for $69.95 on Yandy.com, an online lingerie boutique, which means that Donna's costume is indeed sexy. If you want, you can complete the costume with a dazzling wig ($9.95) and a "Making Amarica Great" red cap ($7.95). Of course, any resemblance to existing persons is not fortuitous at all.
*Photo: yandy.com