Planning a trip to the North Pole this winter? A NuDown high-tech Jacket should definitely be on your packing list.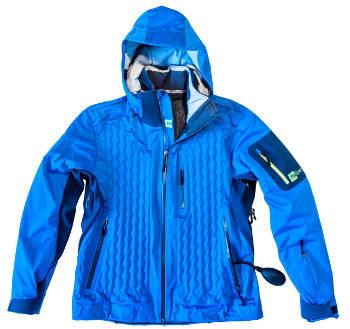 A few years ago in Utah, a company called Klymit invented jackets designed to take the worst of winter, argon gas being the insulation secret. Using gas enabled the jacket's warmth to be adjusted with a hand pump: the thicker the gas layer, the warmer the jacket. But even if the technology was very ingenious, the jackets were quite expensive and so were argon canisters when they needed to be replaced. So the Klymit garments never really took off. Four years later, in 2013, Klymit sold its apparel department to Jeff Pickett, an entrepreneur who intended to improve this gas insulation technology.
Pickett created NuDown and, along with it, the NuTech insulation technology by replacing argon gas with... air. The process is the same: a hand pump injects air into the garment for a better insulation and therefore extra warmth. A complete Women and Men outerwear collection is now available on NuDown's website, with prices going from $450 for a Woman's vest to $800 for a Man's jacket. In addition to the NuTech process, all clothing items feature the most advanced technologies: Polartec®, Wind Pro®, Primaloft® Gold and RECCO® are used in the NuDown garment manufacturing.
*Photo: NuDown