Pirch, a Californian bathroom and kitchen furniture retailer, offers what's best in this area. Still, you can go there and buy a simple plumbing supply at a fair price. And, while you are there, why not try a fancy shower.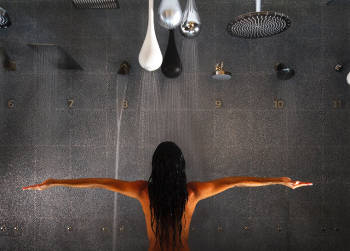 Pirch was created six years ago, in California, by Jeffery Sears and James Stuart. They have eight stores across the country, all located in the finest areas of Atlanta, Chicago or San Diego. The retailer wants to provide the best furniture, appliance and accessories to enjoy every shower or every meal cooking, and voluntary focuses on the kitchen and the bathroom arrangement. The Pirch experience begins right when you walk in a store. All items are laid out in large, clean, organized spaces. Come in and let yourself be welcomed with a drink and snacks. According to the mouth-watering smell, there's a good reason to believe that a chef is cooking somewhere.
And there is! whenever the stores are open. Culinary teams also step in every Saturday to provide cooking classes. If you're considering giving your bathroom a makeover, you can even try a shower or a sauna in real conditions. This gives a very homy and lively feeling to the stores, renewing the way we shop for domestic equipment. It's called "experiential shopping" and Pirch definitely is the leader of this movement. Sears and Stuart are planning several openings next year. Minneapolis and Austin are on the list, as well as a three-level store in Manhattan featuring a 800 sqft. apartment.
Pirch has a slight weakness, though: the website. It's nice and fun but there's nothing special about it. So they're working on it and there is every reason to believe it's going to be quite creative too. We'll see that in March 2016. In the meantime, indulge yourself and visit a Pirch store if you can. You may only buy a siphon, but you'll be doing it the best possible way.
*Photo: Pirch