Since May 13th and for the first time, you can both shop and be social all at once, within the same app: The Net Set was launched by Net-a-Porter last week and is already a must-have.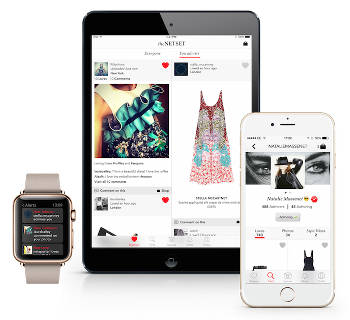 Net-a-Porter will celebrate its 15th birthday next month. Created by the former fashion journalist Natalie Massenet and released in 2000, the website was designed like a high-class glossy magazine where buying an item was as simple as a single click. It still is and Net-a-Porter is the n°1 reference when it comes to online luxury retailing whether it's clothes, shoes, bags, accessories or beauty products. Today Net-a-Porter goes another step further by releasing the first shoppable social network ever, The Net Set.
Socializing is the first activity on the internet. Shopping is not far behind and to do both of them, smartphones and tablets are becoming our favorite devices. The idea of merging shopping and networking may sound evident, yet nobody's done it before Sarah Watson and Alexandra Hoffnung, respectively vice president and creative director of Net-a-Porter. Of course, The Net Set comes with a lot of nice features.
If you want to be part of this experience, the first step is to request an invitation on The Net Set website then download the application (available on the iTunes App Store. The Android version will soon follow). Once your profile is created, the rest is up to you. You can like, post, comment, share, shop, admire and be admired (aka follow and be followed)... A fun and interesting feature is the image-recognition: just take a picture of an item, a friend's cloth or even a color and the software will find something to match, one way or another. The results are quite impressive. Net-a-Porter has 6 million monthly visitors and a community of more than 4 million fans or followers, so The Net Set should be a success.
*Photo: The Net Set