PepsiCo is a few weeks away from launching an intriguing project called Kola House. Located in the Meatpacking District in New York City, this experimental venue aims to become the new place to be.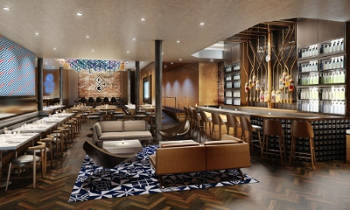 Kola nut is the key ingredient in Pepsi, and it's going to be the key theme of the company's first step in the hospitality business. The Kola House is "a modern hub for consumers to share social and immersive experiences that were anchored in the exploration of our cola's artisanal craft and flavor. The Kola House represents a new space for us to support our consumer-first approach to drive authenticity and innovation around our beverage offerings and ideals" explains Seth Kaufman, PepsiCo North America Beverages' Chief Marketing Officer.
So flavor and taste will be in the hands of Alex Ott, a cocktail magician who is far more than just a bartender. Discovering the kola nut will also be done through an artisanal menu concocted by a chef. That's for the beverage and food part. As for the entertainment side, the Kola House "will also serve as a transformative event space for pop culture moments in music, art, style, film, sports and more", stated PepsiCo's press release. Meaning the customers will be able to attend concerts or art exhibitions in privileged conditions.
The renovation of the 5,000 sq ft location, in New York City's Meatpacking District, is still in progress and the interior design team is working with Kravitz Design Inc. (yes, as in Lenny) to "create a space that brings the Kola House vision to life as a multifaceted culinary and culturally exciting experience" said Lenny Kravitz (see?). The goal is not to put Pepsi logos everywhere, but to achieve something subtle and classy and, above all, get people to talk about this spot on social networks. We'll just have to wait until this spring for the Kola House to open.
Photo: PepsiCo