The Seafood Steamer is the new way to cook seafood. Fast and easy, these bags are the easiest solution to enjoy fresh fish without the mess.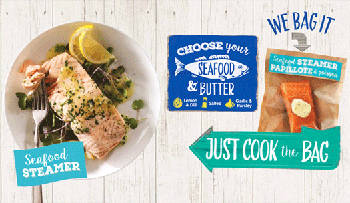 When we are seafood enthusiasts but have no time to prepare it ourselves and/or find it too messy to handle, a new way may be worth the consideration. Sobeys, the Canadian supermarket chain, just launched its Seafood Steamer. It couldn't be more simple: you choose the fish at the seafood counter, along with the seasoning you want: lemon and dill, salted or garlic and parsley. Then it's packed in a special steamable bag, just like French papillotte.
Once home, just pop the Seafood Steamer into the oven or the microwave: cooking instructions are on the back of the bag. A very similar offer has been available for a couple of years at Price Chopper. Actually, it's even more complete. It's called Create, Take and Bake Seafood Dinners. Not only can you choose your seafood (salmon, tilapia, haddock or shrimps) and the seasining, but you can also add some fresh cut vegetables from a selection and then cook everything at once in the same bag.
Photo: sobeys.com