The cosmetics subscription box service Birchbox is now offering its own line of beauty products, under the name LOC, along with the other brand's articles.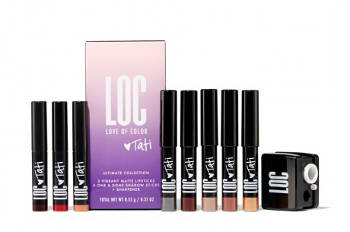 Birchbox was the forerunner of the subscription box services, more than five years ago. The idea was simple: a $10 monthly subscription fee enables you to receive a selection of cosmetic deluxe samples every month. The product selection is customized to your skin and hair types, and it includes famous brands items as well as lesser known labels to discover. Full-sizes products are, of course, available for purchase on the Birchbox website. Since then, many subscription box services have followed, such as Glossy Box four years ago or, more recently, Sephora's Play!.
Birchbox business has expanded to grooming products for men and now offers limited edition boxes too. It was very tempting for the company to give a try and have their own beauty brand. So tempting that they couldn't resist and launched a small line of makeup products a few days ago. Birchbox choose a different name to avoid confusion and called it "LOC", which stands for Love Of Color.
The first collection features a lipstick, available in three colors, and an eye shadow that comes in five shades. Products can be sold together as sets, or separately. Prices range from $8 for a lipstick to $46 for the LOC Ultimate Collection set, including the eye shadow sharpener ($5 if sold separately). Birchbox plans to release two LOC makeup collections each year and may also launch a second private label early in 2016, but the kind of products it will concern is not yet known.
*Photo: Birchbox